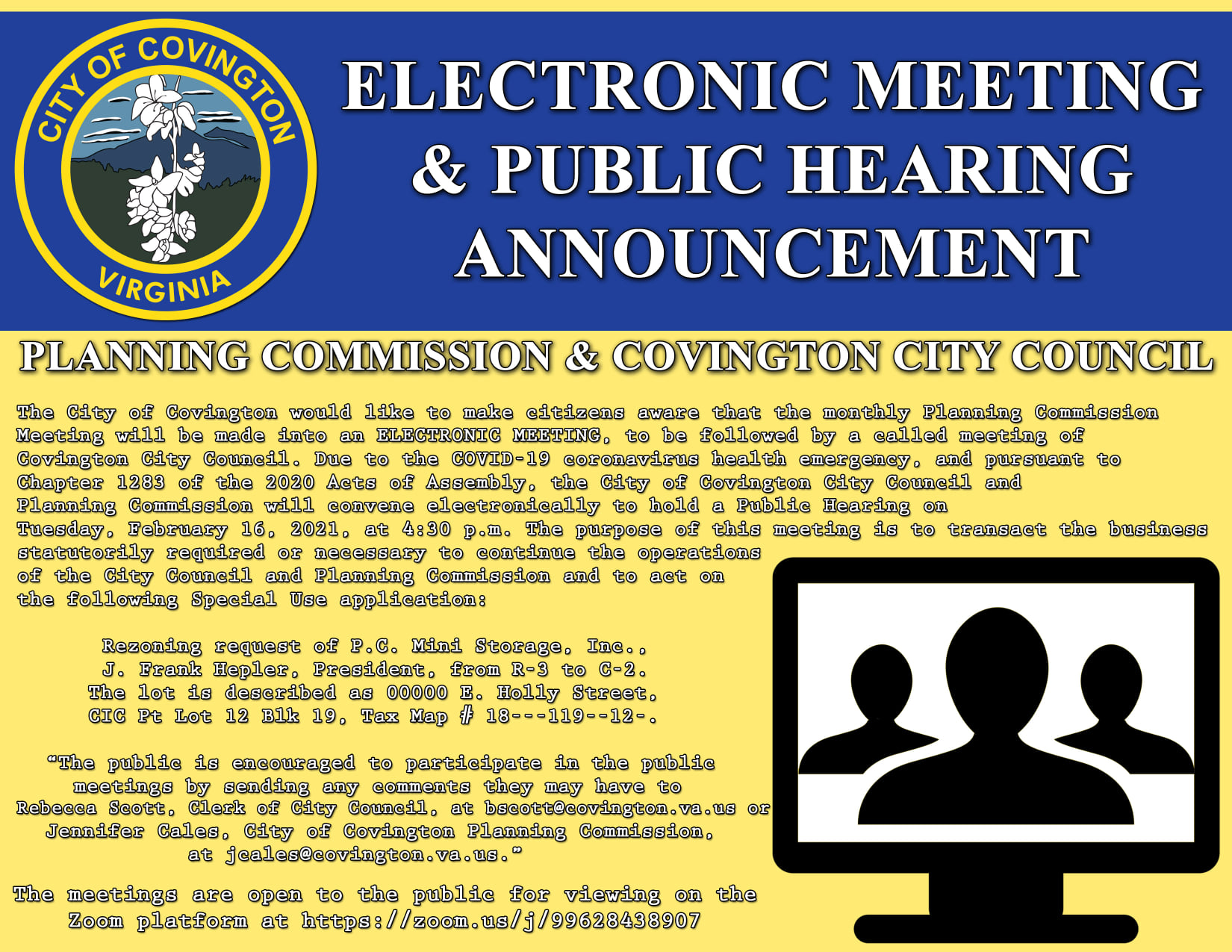 CITY COUNCIL AND PLANNING COMMISSION
PUBLIC INFORMATION
TUESDAY, FEBRUARY 16, 2021
ELECTRONIC MEETING AND PUBLIC HEARING ANNOUNCEMENT
The City of Covington would like to make citizens aware that the monthly Planning Commission Meeting will be made into an ELECTRONIC MEETING, to be followed by a called meeting of Covington City Council. Due to the COVID-19 coronavirus health emergency, and pursuant to Chapter 1283 of the 2020 Acts of Assembly, the City of Covington City Council and Planning Commission will convene electronically to hold a Public Hearing on Tuesday, February 16, 2021, at 4:30 p.m. The purpose of this meeting is to transact the business statutorily required or necessary to continue the operations of the City Council and Planning Commission and to act on the following Special Use application:
Rezoning request of P.C. Mini Storage, Inc., J. Frank Hepler, President, from R-3 to C-2. The lot is described as 00000 E. Holly Street, CIC Pt Lot 12 Blk 19, Tax Map # 18—119–12-.
The meeting is open to the public for viewing on the Zoom platform at https://zoom.us/j/99628438907
"The public is encouraged to participate in the public meetings by sending any comments they may have to Rebecca Scott, Clerk of City Council, at bscott@covington.va.us or Jennifer Cales, City of Covington Planning Commission, at jcales@covington.va.us."
The application may be viewed at the office of the Zoning Administrator at City Hall, 333 W. Locust St., Covington, VA from 8:30 a.m. to 5:00 p.m., Monday -Friday by appointment.
The City of Covington is in compliance with the Americans with Disabilities Act of 1990. If you will require an accommodation or sign language interpreter to participate in the meeting, reasonable accommodations can be made upon request. Please make requests to the Clerk of the City Council at least five (5) days in advance of the meeting at (540) 965-6356.