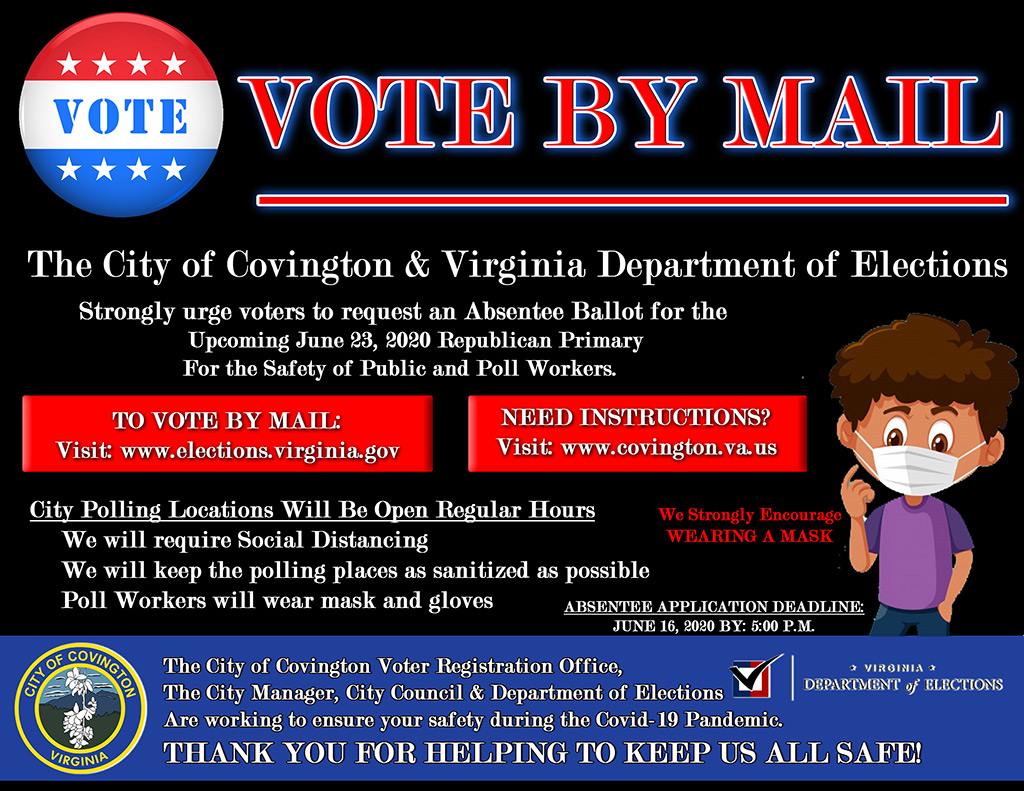 The City of Covington, and the Virginia Department of Elections strongly urge voters to request an Absentee Ballot for the Upcoming June 23, 2020 Republican Primary for the Safety of yourself and the Poll Workers.
Our Polling Places will be open Regular hours and we will require Social Distancing and will keep the polling places as sanitized as Possible and our workers will wear mask and gloves.
We strongly encourage you to wear a mask, but it is not a requirement as of yet.
To Vote Absentee Ballot by mail you may go online to : www.elections.gov/index.html
1. At the top you will see Casting a Ballot, click that
2. On the left you will see Apply for a Virginia Absentee Ballot
3. Follow the instructions carefully
4. Please make sure if you are a Registered Driver at DMV to check the box that gives consent to use that signature on file, if not you will have to print out the application sign it and mail it to 515 E Pine St. Covington, VA 24426
5. You may also call the Office of the Director of Elections and request an application be mailed to you. 540- 965-6380.
The City of Covington Voter Registration Office and The City Manager, and City Council along with the Dept of Elections are doing all that we can to ensure your safety during this time of the Covid-19 Pandemic. Your help would be greatly appreciated in keeping us all Safe
The last day to apply for an Absentee Application will be June 16th by 5:00pm.