October 4, 2022 Due to several members of Council attending a conference out of town, the work session ...
Date: October 3 – October 14 The City of Covington Public Works will be flushing Fire Hydrants throughout ...
October 22 @ 2:00 pm
-
6:00 pm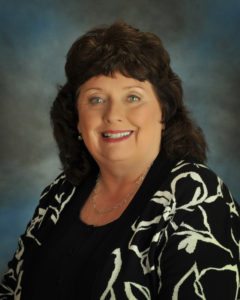 Ms. Cathy Kimberlin began her first term as Commissioner of Revenue on January 1, 2006.  Prior to being elected Commissioner, Ms. Kimberlin had worked in the office for 18 years as Deputy Commissioner of the Revenue and attained Master Deputy Certification from the University of Virginia Weldon cooper Center in July, 2003.  Ms. Kimberlin graduated from Covington High School in 1979 and from Dabney S. Lancaster Community College in 1981.  Ms. Kimberlin has also attended classes in Fundamentals of Real Property Appraisal, Roles and Responsibilities of Commissioner of the Revenue, Taxation of Business, Auditing of Business and Federal and State Income Tax.  In addition, she has attended Virginia Tech Income Tax Classes, the H&R Block Income Tax Course and the Comprehensive Income Tax Course through The Income Tax School.  Ms. Kimberlin is a member of the Commissioner's of the Revenue Association of Virginia, the West-Central Association of Commissioners, the Virginia Association of Assessing Officers and the Virginia Association of Local Elected Constitutional Officers.
In addition to municipal officers, there shall also be a commissioner of revenue elected by the qualified voters of the city.  The commissioner of revenue shall have such powers and perform such duties and receive such compensation as is provided by the constitution of the Commonwealth, and except as is otherwise provided in the charter, as is provided by the provision of the general law for cities.  Such duties shall include assessment of property for taxation, listing of personal property for taxation, certification of property books and delivery of property books.
The Commissioner of Revenue's Office is presently staffed with three full-time employees. (left to right)  Roscoe Fridley, Deputy Commissioner; Ms. Kimberlin, Commissioner and  Crystal Hoke, Chief Deputy Commissioner.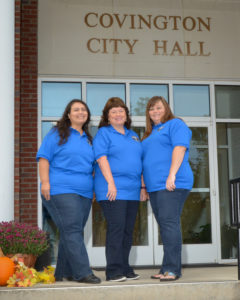 The Commissioners of Revenue are the chief tax assessing officers in Virginia's cities and counties.  They administer the assessments for businesses and individuals in the following areas:  real estate taxes, personal property taxes, business license taxes, consumer utility taxes, machinery and tools taxes, merchants capital taxes and special taxes on meals, lodging, etc.  Following tax levying, the Commissioner's Office is responsible for listing and printing the books for real estate and personal property to be certified and delivered to the Treasurer for collection.
The Commissioner and her staff assist citizens with completion of their state income tax returns to the State Department of Taxation. For more information: 540-965-6352; 540-965-6350 or 540-965-6374.
PERSONAL PROPERTY ASSESSED VALUES WILL SEE AN INCREASE IN 2022
I want to inform the City of Covington citizens that they will see an increase in their personal property assessed values in 2022.
Passenger vehicles in the City are going to increase in value by an average of 29.7% this year.  Some vehicles will increase 40% or more. Citizens owning motorcycles, boats and motorhomes will also see an increase in assessed value.
The struggle of the auto industry's current inventory shortage is real. Thanks to a perfect storm of plant shutdowns, an ongoing microchip shortage and relentless shopper demand, new vehicle supply has been sinking fast.  All of these issues have led to a high demand for used vehicles which has caused the market value to increase at a percentage we have not seen before.
I have not made any change to the method of assessing personal property.  The method of assessment is 100% of Clean Retail Value from the January 2022 NADA Used Car Guide.   The tax rate has not been changed.  The increase in assessed values is solely due to the actual market values as of January 2022.
You will also see a decrease in the percentage of relief you receive on qualifying vehicles for tax year 2022. The City receives a set amount of money from the State each year to provide relief to qualifying vehicles.  The relief percentage in 2021 was 45% and due to the increase in assessed values the relief percentage will be reduced to 38% for the tax year 2022.
The increase in assessed values and the reduced relief percentage will cause most citizens to pay more personal property taxes for tax year 2022.
I wanted to get this information out to you before you receive your tax bills in the mail.  I am happy to discuss this with you and answer any questions that you may have.
Please contact the City of Covington Commissioner of the Revenue office at (540) 965-6350.
Cathy M. Kimberlin, MCR
Commissioner of the Revenue
City of Covington
"Elected to Serve"